Komodo Jo AKA Joe Komadipatatim is the supporting antagonist of "Teenage Mutant Ninja Mobians (1987)" and a member of a group of punks working for
Loki
and
Uka-Uka's
groups.
Rintaro Nishi (Japanese)
Fred Tatasciore (English)
Ricardo Hill (Latin American Spanish)
 Paco Valls (Castilian Spanish)
 Jaume Mallofré (Catalan)
 Michel Élias (French)
 Pierre Auger (Canadian French)
 Jan Steilen (German)
 Edoardo Nevola (Italian)
 Gonçalo Adriano (Portuguese)
José Augusto Sendim (Brazilian Portuguese)
 Sunde Cheng (Mandarin (Taiwan) Chinese)
 Zhào Xiǎo-Míng (Mandarin (Mainland) Chinese)
 Yip Jan-Bong (Cantonese Chinese)
 Hong Beom-Ki (Korean)
 Lasse Lunderskov (Danish)
Reinder van der Naalt (Dutch)
 Fredrik Dolk (Swedish)
 Jakob Þór Einarsson (Icelandic)
 Øyvind B. Lyse (Norwegian)
 ??? (Thai)
 ??? (Russian)
 Mirosław Guzowski (Polish)
 Markus Bäckman (Finnish)
 Péter Minárovits (Hungarian)
 ??? (Greek)
 ??? (Hebrew)
 Mohammad Filfila (Arabic)
Descriptions
Edit
Personality
Edit
Character Relationships
Edit
Loki
Moe's boss.
Episode Appearances
Edit
Season 1
Mobian Tracks (Human form)
Christopher Aonuma and his Group, Outlaw Heroes
Enter Loki the Trickster and his Group (Mutated in this)
A Thing About Rats (Teenage Mutant Ninja Mobians Version)
Hot-Rodding Creatures from Dimension X
Loki and Gainsborough-Strifed
Season 2
Return of Loki's Group
The Case of the Killer Pizzas (Teenage Mutant Ninja Mobians Version)
Enter the Pumpkinhead
Invasion of the Punk Mutants
Cloud, Aerith, Tiny, and Dingodile No More
New York's Shiniest (Teenage Mutant Ninja Mobians Version)
Creatures from Dimension X
The Cat Woman from Channel Six (Teenage Mutant Ninja Mobians Version)
Welcome to Yuffie's Nightmare
Return of the Jotundrome
Season 3
Beneath These Streets (Teenage Mutant Ninja Mobians Version)
Mobians on Trial
Attack of the 50 Foot Mimi
The Maltese Spider
Sky Mobians
The Old Switcheroo (Teenage Mutant Ninja Mobians Version)
Cold as Ice
Yuffie the Hedgehog
Komodo Lumps
Mobians at the Earth's Core
Princess in Distress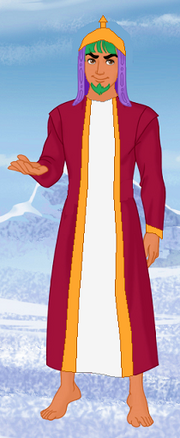 Community content is available under
CC-BY-SA
unless otherwise noted.